NANOSEPT® AQUA
What is NANOSEPT® AQUA:
NANOSEPT AQUA is a new generation of modern disinfectants produced with nanotechnology. NANOSEPT® AQUA is a complex system. Non-ionic surfactants have a cleaning effect, while active oxygen has an immediate antimicrobial effect on surfaces and solutions in a very wide spectrum. This antimicrobial effect is spread over time by the silver particles for up to several days, which is confirmed by laboratory tests.
A NANOSEPT® AQUA általános professzionális és háztartási felhasználásra, valamint élelmiszerrel közvetlenül érintkező felületek és eszközök fertőtlenítésére is alkalmas illatmentes fertőtlenítőszer koncentrátum.
Advantages of disinfecting with silver particles in the new product:
immediate effect
long lasting effect
harmless to the environment: aldehyde and chlorine free
non-toxic after drying
Packaging:
1 kg bottle, 5 and 20 kg cans
Composition:
hydrogen peroxide 5%
silver colloid <0.05%
non-ionic surfactant
distilled water
Physical and chemical properties:
Colorless, translucent, clear, odorless liquid
pH at 20 ° C: 2.5-3.0
Antimicrobial spectrum:
bactericidal (also kills MRSA), fungicide, sporicide, tuberculocide, virucid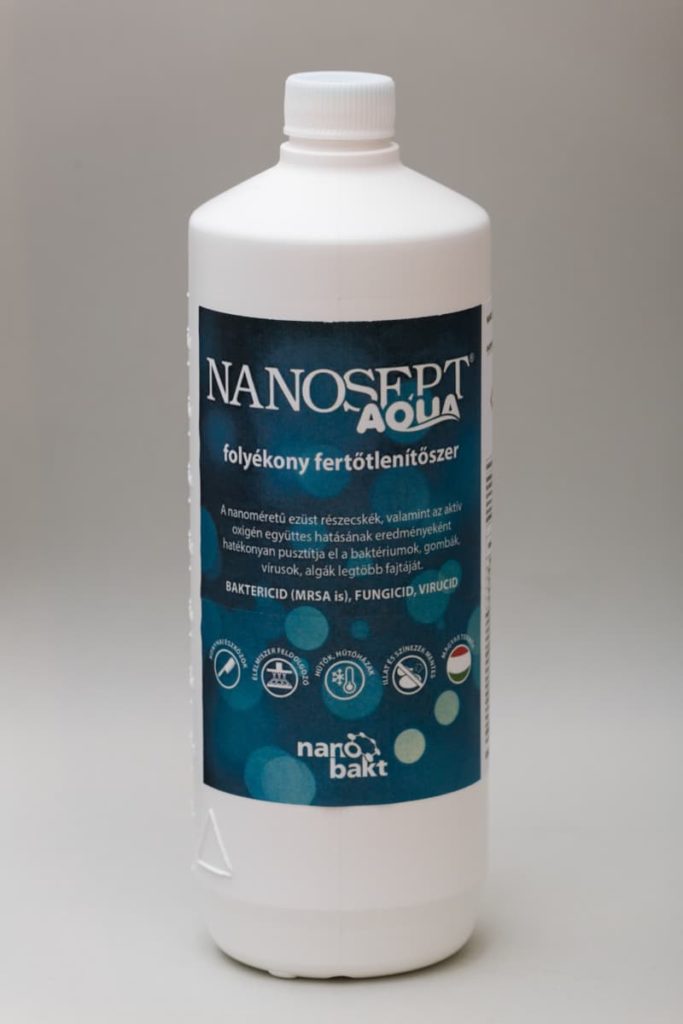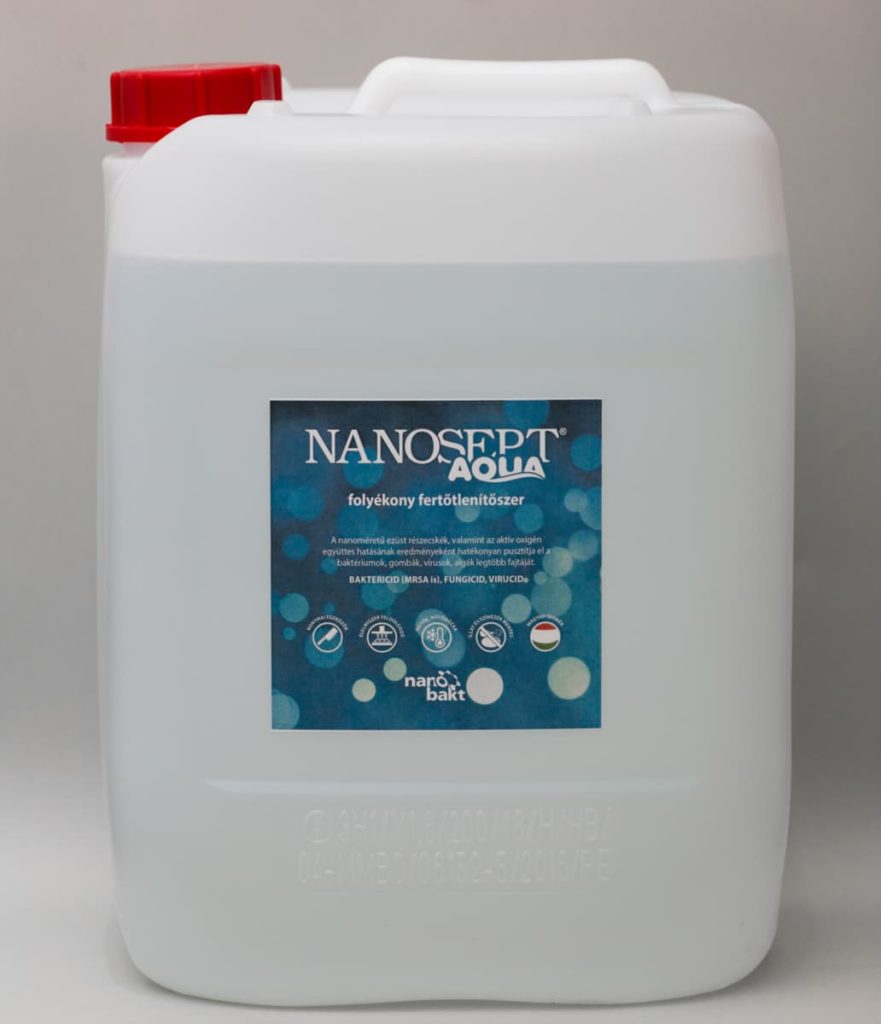 SUGGESTIONS FOR THE APPLICATION OF NANOSEPT® AQUA
In addition to NANOSEPT®, it can be used in the following cases:
for the disinfection of equipment, containers, vessels, surfaces or pipelines connected with the production, storage or consumption of food or feed (including drinking water) intended for human or animal consumption
products used for the impregnation of materials which may come into contact with food
swimming pools
beverage bottlers
industrial water (eg cosmetics industry, glass production)
cooling water treatment / energy
surface disinfection
egg disinfection (against salmonella)
Attention:
Always prepare a fresh solution before use. Do not mix with other cleaning agents or disinfectants. Increasing the efficiency of disinfection by cleaning the surface before application. Nanosept® Aqua can cause discoloration on surfaces, so it is advisable to perform a test before use.
Waste management:
Rinse the emptied packaging with water and treat it as municipal waste.
Storage:
Store a properly closed bottle / can in a cool place protected from light and heat.
Warranty:
18 months
ÁNTSZ License:
455-4 / 2018 / KJFFO. Microbiological tests were performed by the National Epidemiological Center.
Manufacturer and Distributor:
Nanobakt Kft., 1031 Budapest, Drótos u. 1.,
Phone: +36 20 292 9297 – Fax: 36 1 242 1391 – E-mail: info@nanobakt.hu