A NEW DIMENSION IN DISINFECTION
Long-lasting disinfecting effect. 100 % chlorine free.
Antimicrobial – antibacterial, antifungal and antiviral.
BROAD RANGE OF LONG-TERM PROTECTION
Nanosept®product family is a new generation of modern disinfectants. Its antimicrobial effects are due to the active oxygen and silver particles released during use. It provides fast and efficient disinfection. By using Nanosept® products, the silver that gets on the treated surfaces and remains there after drying has a more lasting disinfecting effect, thus helping to maintain the hygiene of the surfaces.
CHLORINE-FREE EFFICIENCY
Due to their highly corrosive properties, various chemicals containing sodium hypochlorite (hypo) can destroy the surface to be disinfected, and their dangerous decomposition products can irritate and destroy the mucous membranes and damage the respiratory system, especially for children, if released into the air. In contrast, the use of Nanosept® products does not result in hazardous decomposition products that are harmful to human health.
INDUSTRIAL AND HOUSEHOLD USE
In terms of their range of applications, the members of the Nanosept® product family are excellent for home and household disinfection, as well as for professional-level disinfection from healthcare and hospital use to agriculture and industrial applications.
OUR PRODUCTS
NANOSEPT® product group is a new generation of modern disinfectants produced with nanotechnology. NANOSEPT® is a complex system in which non-ionic surfactants have a cleaning effect, while active oxygen has an immediate antimicrobial effect on surfaces and solutions in a very wide spectrum. This antimicrobial effect is spread over time by the silver particles for up to several days, which is confirmed by laboratory tests.
Our products suitable for general surface and tool disinfection are: NANOSEPT® (scented) and NANOSEPT® AQUA (odourless). The two products have the same composition except for the fragrance additive.
We recommend NANOSEPT® AQUA SUPERT (ADR) for professional and industrial applications. We sell this product exclusively to resellers and professional users. It cannot be ordered by private individuals.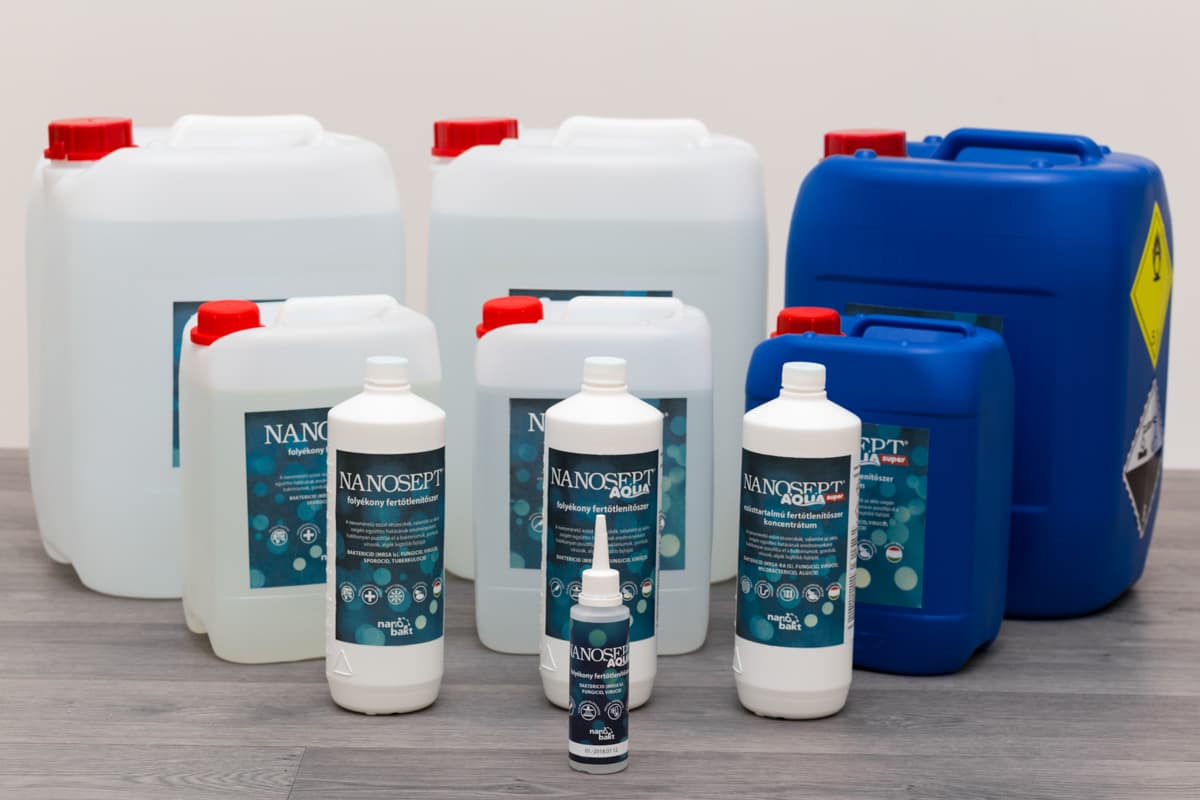 WHY SILVER?
The antibacterial effect of silver has been known for centuries. Already the Romans knew and used the extraordinary property of silver. To preserve drinking water, silver utensils were used or silver coins were placed in the water. Alexander the Great's soldiers used silver to preserve the freshness of drinking water during long sea voyages, although they were unaware of the existence of bacteria.